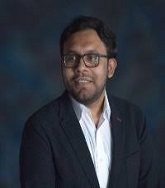 Niladri Shekhar Dutta
Regional Principal & Consulting Director MMEA
Ericsson
UAE
Biography
A seasoned professional with close to 13 years of global consulting experience and delivered more than 40+ consulting engagements in varied culture and markets across Western Europe, Middle East, North & Central Africa, A‐Pac, India, and New Zealand. Niladri's expertise is primarily around Enterprise Architecture, Digital transformation, Business, and Operational Process Management, IT Operational Strategy & Revenue Assurance /Risk Management Consulting.

Professional Background & Qualifications
 Global ICT Consulting experience (Telco, Media, Utilities, PSUs) and worked across MEA, A‐Pac, Europe and India.
 MBA (Marketing& Finance), B.E. (Electronics).
 Certifications : TOGAF, CBOP, ITIL V2.0
 Six Sigma Green Belt
 eTOM Implementation Specialist – TMF

Key achievements:
• Industry – Telecom, Media & Utilities;
• Individually contributed to Consulting sales, value 50Msek (6.5m$) during 2016, and demonstrated a win rate of more than 95% at current organisation;
• Instrumental in new customer acquisitions for Consulting, enabling practice growth from 10MSEK (2m$) to more than 120Msek(18m$) at current org;
• Led multi-functional teams of 5 to over 20+ people during delivery of Consulting projects;
• Led large scale (Tier 1) Digital transformation initiatives covering DMA - Digital Maturity assessments and D-TOM (Digital target operating models);
• Deep domain expertise in IT Strategy and EA (Enterprise Architecture)engagements;
• An active speaker and panelist in international research conferences and have published several white papers across research and industry journals.
• Multi-cultural sensitivity - ability to perform in large unstructured environment, across industry sectors
• Led many greenfield initiatives of large companies.

Research Interest
Telecom, RPA, Big Data analytics