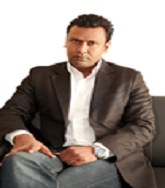 Shabir Momin
MD & CTO
ZengaTV.com
Singapore
Biography
Started at the age of 16 and became the youngest CTO at the age of 21, he was also awarded as the Entrepreneur of the Year in 2013 by TIE. Shabir has had a successful track record in various technology and business positions at a CXO level for few years before he became an entrepreneur. His current ventures that he has founded and cofounded includes ZengaTV, OneDigital, OneAxcess, Desiredwings, Raastey, Leap 10, and few others.

His ventures like ZengaTV.com being the largest OTT player in India with 30+ Million users, OneDigital being the largest YouTube MCN and Digital production house with 40 Billion watch minutes in YouTube alone and with the largest number of web shows and original digital videos produced so far. OneAxcess.com a unique self-serve, multi-platform distribution and monetization video eco system with over few thousands of content owners, creators and brand advertisers on board, making these ventures the leaders of their respective space.

He has keen interest in scalable and consumer facing business with some of his new ventures, in Cab industry, experiential marketing (using VR, AI, 360, Robotics, AR), Start-up incubation labs, renewable power, data mining, and bots to count few.

Research Interest
Artificial Intelligence, Robotics, Data Mining